Idaho-Oregon Buddhist Temple Information
Our Philosophy
Our Philosophy
Reverend
Reverend Jerry Kyosei Hirano
MINISTER (KAIKYOSHI MINISTER)
Hirano Sensei was born in Salt Lake City, Utah in the year of the fire rooster. He attended the Salt Lake Buddhist Temple as a child and is now the resident minister. He graduated from the University of Utah with a B.S. in Speech Communication, followed by an M.A. in Buddhist Studies from the Institute of Buddhist Studies in Berkeley, California. He continued his studies at Chuo Bukkyo Gakuin (Central Buddhist Institute) in Kyoto, Japan from 1983 - 1987. After receiving Kyoshi ordination from Nishi Hongwanji in Kyoto, he returned to the United States as a Buddhist Churches of America (BCA) Minister. His first assignment was at the San Jose Buddhist Church Betsuin for 6 years before he returned to Salt Lake City as Kaikyoshi. Currently he is also the minister at the Ogden and Honeyville Buddhist Temples as well as at Idaho-Oregon Buddhist Temple.
He is married to Dr. Carmela Javellana Hirano, an integrative psychiatrist and founder of Sanctuary for Healing and Integration (SHIN) and also his minister's assistant at the Temple. At home, where he admittedly does not rule the roost, he is surrounded by hens, as well as Carmela, his daughters Kacie and Taylor, dogs Ponzu, Peanut and Miso, and cat Baby Blue.
"I find that as I grow older, I appreciate the fullness of what I am given, from the laughter of my children to the sound of my bones creaking in the morning as I awake. I am still alive! This realm of gratitude is the life of Nembutsu. It is in the impermanence of each moment of life - moving forward - that I am allowed to appreciate this life." Rev. Hirano — excerpt from Teriyaki Priest
Reverend Jerry Kyosei Hirano
Reverend Anne Rensho Spencer
ASSISTANT MINISTER (KYOSHI)
Rev. Anne began attending Idaho-Oregon Buddhist Temple in the fall of 2002. At that point in her life she was working in the medical field and helping families make difficult medical decisions and cope with grief and loss. She found that the Jodo Shinshu Buddhist teachings, along with her relationship with the community of people at IOBT, helped her find meaning in her work and a new perspective to help face life's challenges. Her desire to learn more about Buddhism led her to volunteer at the temple as well as pursue academic study in Buddhism.
In 2010 she received Tokudo ordination at Nishi Hongwanji in Kyoto, Japan. In 2012 she graduated with her M.A. in Buddhist studies from the Institute of Buddhist studies and the Graduate Theological Union. In 2018 she received her Kyoshi certification from Nishi Hongwanji in Kyoto, Japan. And in 2021 she received the status of assistant minister from Nishi Hongwanji. In addition to working at IOBT, she continues her work in the medical field as a lecturer at Boise State University College of Health Sciences and as a genetic counselor in a small private practice.
"Buddhism, at its core, teaches that all life, all beings, are interconnected. Every living being--humans, animals, plants, and even yeast--shares common ancestors who lived thousands to billions of years ago. Seeing things from this perspective, that we are all cousins, can help us live a life of compassion and gratitude for those around us." -- Rev. Anne
Reverend Kathy Myomon Chatterton
ASSISTANT MINISTER (TOKUDO)
Rev. Kathy was born in Nyssa, Oregon and grew up in Nampa, Idaho. She has been a part of the Idaho-Oregon Buddhist Temple Sangha from a very young age. She was a Dharma School teacher, a lay speaker, and has conducted an adult study class since 1976. After retiring from a 32-year career as an elementary school teacher, she was certified as a minister's assistant in 2007. In 2010 she received Tokudo ordination at Nishi Hongwanji in Kyoto, Japan. In 2021 she received the status of assistant minister from Nishi Hongwanji.
"'My parents stressed the teaching of 'living in harmony with reality.' That is our path as we live our lives as Shin Buddhists." --Rev. Kathy
Ameni­ties & Expe­riences
Local
Experiences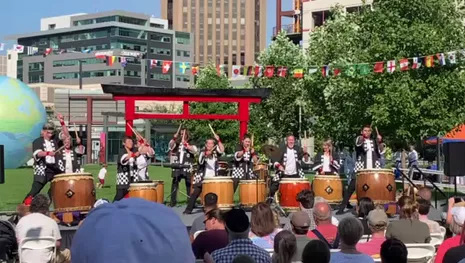 Our Annual Meet N Greet
Bring your kids, pets, smiling face and prepare to enjoy the big giant Taiko drum performances! It's super loud and cool!
Japanese Restaurants
We have two great Japanese restaurants in town . Ogawas...and the other place who's name I can not remember at the moment. It's good sushi!
Close to the freeway
The Temple is close to the freeway so it's super easy to come see us at our next event! We love meeting new people and sharing the love. Namuamitabutsa
We work in jobs
I really don't know what more to type in this 6 boxes, but I"m sure you do! You're far better connected than me.
Picnics in the parks
The Buddhist community loves to get together and eat. Japanese food is the best! I love sushi, really I do! Be sure to update this article too.
People play drums
Every year we gather and somebody plays drums. I don't remember what this is called. You need to update this information.